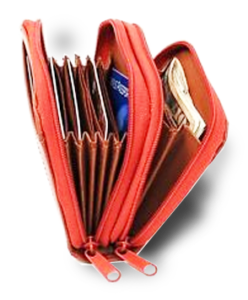 Ok, I will admit it: I am a Bag Lady. I have a weakness for all kinds of bags, from reusable shopping bags to purses to wallets. You'll be hearing more about this subject, have no fear of that! Today I'm focusing on an aspect of almost every wallet I own: they don't want to give up my driver's license. Maybe you've experienced this, too – a clerk asks to see your ID, and needs it out of the little window for whatever reason (usually because the name is obscured). Even if it has a little hole that supposedly helps you slide it out, you still end up doing a little dance to remove it. Well, no more. I want to share a little "fix" that someone showed me this week that just made me ridiculously excited.
When I saw the lady in line in front of me easily grab a little tab and pull her license out, I blurted out "Where did you get that?" I assumed it was a little gadget she'd picked up at the check-out  at B,B&B. She laughed, and when the clerk gave her the card back, she showed me the "gadget," which was….wait for it…a piece of tape fashioned into a tab.
BRILLIANCE!! My mind immediately started racing. With all the cute duct tapes out there now (which I also have a hard time resisting), you could color-code your credit cards, gift cards, even your insurance cards, making it easy to locate them in your stuffed wallet.
Why didn't I think of that?