You may have figured out by now that we are movie-holics. We catch a few on the big screen (Pixar,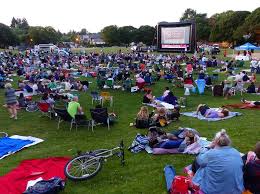 space movies, and action movies), some we wait for the Blu-Ray, and during the summer we love to pack up the blanket and a picnic and watch movies in the park. We have a bit of a dilemma today, though, because Willy Wonka (the Gene Wilder one) is showing at Wilkes Park, and The Lego Movie is at Warner Pacific College. We may be flipping a coin!!
Here's the line-up for the rest of the season. I left out some movies that aren't age-appropriate for my kids, but here's a link to the full line-up.
Sunday, August 9, April Hill Park – A Bug's Life 
Thursday, August 13, Oregon Park – Pee-Wee's Big Adventure
Saturday, August 15, Concordia University – Paddington (we haven't seen this one yet – have you?)
Sunday, August 16, Arbor Lodge Park – Mary Poppins
Wednesday, August 19, Wellington Park – E.T. the Extra-Terrestrial
Thursday, August 20, Brooklyn Park – The Wizard of Oz
Friday, August 21, Laurelhurst Park – Cinderella
Tuesday, August 25, Mt Scott Park – 101 Dalmatians
Friday, August 28, Dawson Park – Labyrinth
Saturday, August 29, Spring Garden Park – Back to the Future
Saturday, September 5, Hamilton Park – Maleficent
Sunday, September 6, Overlook Park – Toy Story
Friday, September 11, Multnomah Arts Center – Big Hero 6