I love living in Portland, but I really love summer in Portland! For one thing, my kids are out of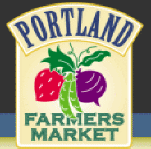 school, so it's just one adventure after another. We have a new adventure this year, directly related to summer, but it doesn't involve a swimming pool – we're jammin'! I stumbled upon some slow-cooker recipes for fruit jams, so we're combining our love of cooking with our passion for the area's fresh fruit, which I think may easily be some of the best in the world.
Which brings me to my next favorite thing about summer in Portland – the Farmer's Markets. I've used this website to find markets and other sources of local produce, and we've also just driven around outside the city and looked for roadside peddlers. The cherries and blueberries are particularly luscious in the Northwest, and we are pretty much addicted to all things blueberry. Once we've made the jam, we'll make healthy little pies (I'm going to be playing around with crust recipes, so I'll get back to you on that), toaster pastries, and whatever else we can think of.
So, back to the jam. This is apparently not a new idea, but it's new to me – so I'm excited!!! The kids are really looking forward to making their own jam – and they're picking out our soundtrack so we can jam while we're jammin'! Here are some of the recipes I'm looking over:
This site has several recipes, including one for blueberry butter! YUM!
I like the look of this one because it has the word "riesling" in the name.
I may try this one with riesling, too, just because. One comment on this recipe suggested not peeling the peaches. Works for me…I mean, less work for me!
I'll let you know how this works out, once we get the fruit. If you try it before we do, we want details!