As you may have figured out by now, I love silly observance days, like food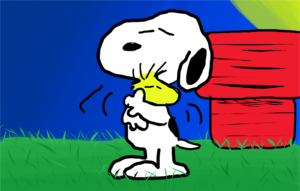 recognition days  and Star Wars Day (May the Fourth). Today is one of my favorites, because it requires absolutely no preparation! I personally think every day should be a hugging day, since science has proven hugs are very beneficial mentally and physically.
I've always been a big believer in "the healing touch," that massage can improve your immune system and relieve stress, and it's good to know that a simple hug can do the same thing, although psychologist Virginia Satir states, ""We need 4 hugs a day for survival. We need 8 hugs a day for maintenance. We need 12 hugs a day for growth." You heard it, folks, so get to hugging!!
P.S. Today is also Squirrel Appreciation Day, but I don't recommend hugging a squirrel!